Pure Aventure - Parcours Accrobranche en forêt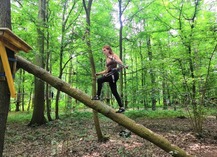 Phone :
+33 (0)6 12 52 24 35
Pure Aventure - Parcours Accrobranche en forêt
http://www.pureaventure.com
Mise en place d'un protocole anti-covid : - réduction de notre capacité d'accueil et du nombre de personne prise en charge par départ. - réservation en ligne - sens de circulation et distanciation au sol et dans les activités - port du masque dans les espaces de contact (pour les clients) - port du masque et/ou de la visière pour nos salariés - mise à disposition de gel hydroalcoolique
Accrobranche park or Adventure course located in Raismes, near the Leisure and Nature Park of La Porte du Hainaut. More than 120 games, spread over 7 courses, await you including: 3 tracks reserved for children, 4 tracks dedicated to teenagers and adults, a giant tarzan jump, a 100-meter zip line, a climbing tree, a 17 meters. From 2 to 12 meters high, difficulty levels suitable for everyone! Open every day during the holidays, from 10 a.m. Reservations during the week outside school holidays and recommended on weekends. Wear an appropriate outfit with sneakers or hiking shoes (mittens recommended). Child formula from 5 years old - Adult courses accessible from 10 years old with accompanying adults. Guaranteed safety: continuous lifeline for children and interconnected carabiners for adults.
Porte ouverte sur Pure Aventure
Pure Aventure - Parcours Accrobranche en forêt
Address :
Drève de Raismes
59590 Raismes
Phone :