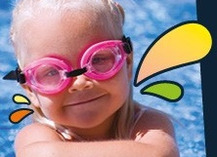 Centre Aquatique Intercommunal de l'Amandinois
Chemin de l'Empire
59230
Saint-Amand-les-Eaux
Phone :
+33 (0)3 27 33 99 00
Au Dragon d'Eau
http://www.centre-aquatique-amandinois.fr
The Aquatic Center Au Dragon d'Eau offers various aquatic activities in a quality swimming area. Download the schedule and timetables! Come when you want, even without booking! The health protocol is evolving. Tickets and Passes can be purchased online or at the Water Dragon reception desk. The 350 m² recreational spa pool is distinguished by its waterfalls, relaxing aquatic benches and hydro massage jets. In this environment, the Aquabike, Aquafitness or even aquagym will be offered to you by state-certified coaches. While Saturday mornings, in water at 32 ° C, baby swimmers will be the center of all our concerns. The entire Aquatic Center team is waiting for you to share a quality moment in a magnificent environment!
Porte ouverte sur le Dragon d'Eau