Train touristique de la Vallée de la Scarpe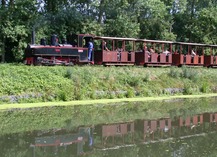 59230
Saint-Amand-les-Eaux
Phone :
+33 (0)7 67 06 50 06
Train touristique de la Vallée de la Scarpe
https://www.cfvs59.com/
Let yourself be rocked to the soft and slow rhythm of a small twist of the past. Along the Scarpe Canal, this steam train brings you back to life for 45 minutes all the atmosphere of the rail journeys of yesteryear. From May to September, Sunday departures every hour, from 2:30 p.m. to 4:30 p.m. (consult the pdf file for dates). Steam train fare: adult 5 €, child (5 to 12 years old) 3 €. Special diesel trains: only for groups of more than 20 people by reservation. Flat rate for groups of adults and children.
Prices
Min
Max
Description
Adult
5€
Child rate
3€
Group
4€
Other
/
/
Train touristique de la Vallée de la Scarpe
Address :
Chemin des Hamaïdes
59230 Saint-Amand-les-Eaux
Phone :