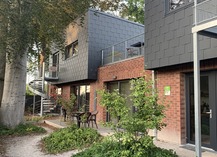 54, rue de l'Orée du Bois
59230
Saint-Amand-les-Eaux
Phone :
+33 (0))6 85 35 03 61
Phone :
+33 (0)6 29 58 11 34
Gîte du Bien-Hêtre
https://gitesdubienhetre.fr/
Mesure de nettoyage, port du masque
200 m from the thermal baths and at the foot of two hundred-year-old beech trees, we welcome you to 6 new and bright accommodation labeled Gites de France as well as Tourism and Handicap. Covering an area of 23, 40 or 65m² in the DRC or upstairs you will be seduced by the modern and careful decoration of the beech cottages. Our accommodation with a capacity of 2, 4 or 6 people, all have an equipped kitchen (dishwasher, oven, microwave, freezer, etc.), a washing machine, a TV, internet access and a private terrace. Rental of sheets and towels optional.
Porte ouverte sur les gîtes du Bien-Hêtre
| Prices | Min | Max | Description |
| --- | --- | --- | --- |
| Three weeks (furnished flat) | 750€ | / | |
Gîte du Bien-Hêtre
Address :
54, rue de l'Orée du Bois
59230 Saint-Amand-les-Eaux
Phone :
+33 (0))6 85 35 03 61
+33 (0)6 29 58 11 34