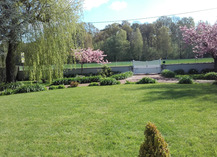 734, route de Valenciennes
59230
Saint-Amand-les-Eaux
Phone :
+33 (0)6 12 45 54 10
Phone :
+33 (0)3 27 26 48 83
A l'Ombre des Saules
https://www.facebook.com/alombredessaules
Réouverture le 1er août. Port du masque pour échange avec les locataires, gel hydroalcolique à disposition, clef mise à une place convenue afin de limiter les contacts .
Located in the forest, in a wooded park of 3500 m², quiet and new accommodation (opening scheduled for 06/2020) on the 1st floor of the owners' house (staircase and private entrance). 300 m bus line 12, 4 km from the thermal baths, near cinema and shops. Private terrace 10 m², balcony 5 m², lounge / living room / kitchen with oven, dishwasher, microwave, induction hob, fridge-freezer, 2 relax electric armchairs, TV, Wifi, 160-bed room, closet storage. Bathroom with bathtub fitted with a shower and a washbasin, washer-dryer. Separate WC, hand basin. Linen and sheets provided. Bikes available.
Prices
Min
Max
Description
Weekend (furnished flat)
150€
Week (furnished flat)
240€
Month (furnished flat)
750€
Three weeks (furnished flat)
700€
Cleaning
45€
A l'Ombre des Saules
Address :
734, route de Valenciennes
59230 Saint-Amand-les-Eaux
Phone :
+33 (0)6 12 45 54 10
+33 (0)3 27 26 48 83