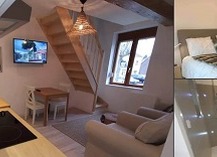 M. ET MME FRANÇOIS
330, place du Mont des Bruyères
59230
Saint-Amand-les-Eaux
Phone :
+33 (0)6 72 75 31 63
Cottage de La Forêt
https://cottage-foret.fr/
Mise en place d'un système d'arrivée autonome dans le logement avec une boîte à clé désinfectée entre chaque client et port du masque dans l'entrée qui est commune, mise à disposition de savon et d'essuie main dans le logement, désinfection du logement entre 2 locations (interrupteurs, poignées, linge...) en plus du ménage traditionnel.
On the Mont des Bruyères square, a stone's throw from the forest and close to the thermal baths (bus stop 121 which leads to the thermal baths and the train station at the foot of the house, this big pine stop), this cottage divided into 2 accommodation will seduce you with its warm decoration, its quality equipment (Nespresso coffee machine, equipped kitchen, flat screen TV 101 cm, queen size bedding, 120 x 90 Italian shower, private terrace facing south ...). Ideal location next to the bakery, 1 km from the shopping center and Pasino and 2.4 km from the thermal baths. You can park around the square (for free).
Prices
Min
Max
Description
Low-season weekend rental rate (2 nights)
118€
Week (furnished flat)
330.40€
Month (furnished flat)
1062€
Three weeks (furnished flat)
860€
Cottage de La Forêt
Address :
M. ET MME FRANÇOIS
330, place du Mont des Bruyères
59230 Saint-Amand-les-Eaux
Phone :