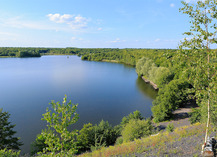 Phone :
+33 (0)3 27 19 19 70
Mare à Goriaux de Raismes
http://www.pnr-scarpe-escaut.fr
Located at the foot of a heap with black soil contrasted with the white trunks of the birches, this immense 90-hectare lake serves as a landmark for some 200 species of rare birds (crested grebe, osprey, plover small gravel ... ). An important biological reserve since 1982, it is protected by the National Office of Forests. A simple duck pond a century ago, the pond at Goriaux was born of a mining collapse. As the miners extracted the coal, the soil collapsed below the water table. The pool then developed. Before the soil settled, young pigs (pigs) inhabited the places which were former meadows. Hence the name mare to Goriaux. A 6.5 km hiking trail now invites you to explore an original flora (aquatic grass, broom reed, birch coming from neighboring forests ...), while treading the famous paving stones of the Arenberg gap, mythical passage of the cycling race Paris-Roubaix, whose northern Jean Stablinski was the first rider in history to borrow it in 1968.