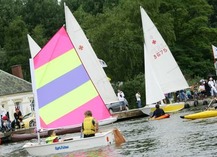 Phone :
+33 (0)3 27 35 72 28
Voile
http://www.bassin-rond.net
Integrated into a wetland of great biological variety, Bassin Rond once housed three shipyards. This mecca of skippers is now inhabited by the dinghies, windsurfers and canoes Centre Plein Air. You can rent mountain bikes and canoes or stroll along the banks occupied by fishermen.