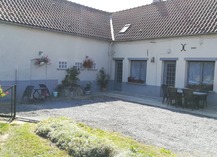 59230
Saint-Amand-les-Eaux
Phone :
+33 (0)6 37 43 67 26
Gîte de l'Orée du Bois
http://www.facebook.com/gitedeloreedubois
Nettoyage et désinfection
Single storey house of 50 m² with entrance, parking and enclosed garden of 400 m². Comfortable cottage for 2 to 4 people located in the heart of the Scarpe-Escaut Regional Natural Park. 1 km walk from the thermal baths, the national forest and close to the Pasino, the shopping center, restaurants and the town center. Ideal spa guests, lovers of calm, nature and travelers. The cottage is cozy and functional. You will find everything you need to cook and maintain your laundry, relax and stay connected (Wi-Fi, TV box- internet). Deckchairs and bicycles can be provided. The cottage is completely independent of our home. You have a private entrance, parking and garden of 400m2. It is located in a quiet residential area of St Amand les eaux, La Croisette district. Between the city and the countryside, ideally located! We accept animals under conditions. Cottage with 1 bedroom with 1 double bed + a sofa bed in the living room. Flexible arrival and departure.
Prices
Min
Max
Description
Night (furnished flat)
49€
65€
Week (furnished flat)
260€
300€
Three weeks (furnished flat)
790€
Month (furnished flat)
950€
Gîte de l'Orée du Bois
Address :
526, rue de la Louvière
59230 Saint-Amand-les-Eaux
Phone :