Maison de la Forêt de Raismes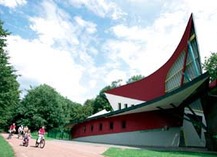 Phone :
+33 (0)3 27 36 72 72
Maison de la Forêt de Raismes
http://www.pnr-scarpe-escaut.fr
At the heart of a forest of 4,600 hectares, exhibition and audiovisual projection of the Forest House introduces you to the secrets of the fauna and flora as well as the discovery of mineral traces Site Sabatier. Advice on foot, horseback or mountain bike trails and nature walks guide your escapades. Open from 1st April to November, Wednesday from 14h to 17h. During school holidays, open every day from 14h to 17h, except weekends. Free access. Open all year by appointment for groups.