Musée de la Tour abbatiale de St-Amand-les-Eaux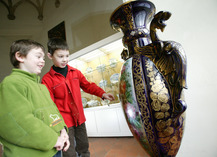 59230
Saint-Amand-les-Eaux
Phone :
+33 (0)3 27 22 24 55
Musée de la Tour abbatiale de St-Amand-les-Eaux
http://www.saint-amand-les-eaux.fr/fr/culture/musee-expositions/musee.htm
In the large room on the ground floor, under a monumental stone vault carved with patterns of wrapped ribbons, fantastic masks and prominent moldings, the temporary exhibitions are presented. The staircase in the South turret leads to the permanent collections. In the first room, sculptures evoke the religious art of the South Netherlands from the 16th to the 18th century. The history of Saint-Amand is also discussed thanks to a few rare remains from the Romanesque period, 17th century pavement tiles and documents. The second room, more important, presents a panorama of faience from the 18th to the 20th century with original and refined decorations and industrial objects with different techniques. Throughout the year, temporary exhibitions are organized with animations, workshops, courses-games for all public. Group guided tours on request at the Tourist Office of La Porte du Hainaut at 03.27.48.39.65 Museum open weekdays every day from 14h to 17h, except Tuesdays. Saturdays, Sundays and public holidays (except the 1/1, 1/11 and 25/12): from 10h30 to 12h00 and from 14h to 18h; Free admission.
Musée de la Tour abbatiale de St-Amand-les-Eaux
59230 Saint-Amand-les-Eaux
Phone :