CRP/ Centre régional de la photographie Hauts-de-France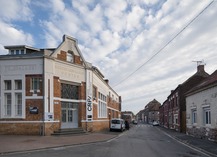 Phone :
+33 (0) 327 43 56 50
CRP/ Centre régional de la photographie Hauts-de-France
http://www.crp.photo
Founded in 1982, the CRP / Hauts-de-France regional photography center in Douchy-les-Mines is a conventioned art center, the first in France to have specialized in the field of photography. It has its origin in a group of photographers from the Photo-Club of the Usinor Denain Works Council. At the same time place of exhibition, support for the creation, experimentation, diffusion and mediation, the CRP / presents four original exhibitions per year. He favors the invitation to artists to present new productions, often made as part of research stays or residences on the territory. These help to shift and renew the perceptions of the inhabitants on their history (s), their territory and open on other cultural and societal issues in the world. This artistic program includes a program of educational and cultural activities, in and outside the walls: visits, workshops, conferences, film sessions or performances, as well as artistic and educational projects conducted around the works and with artists. CRP has the distinction of having a photographic collection of more than 15,000 works, as well as a library of specialized works and reference artists' books. This collection is an exceptional collection reflecting the diversity and richness of photographic creation for over thirty years in France and abroad. With this collection, the CRP / has developed an art library activity that offers nearly 500 original photographic works accessible to everyone (individuals, communities, associations, businesses, schools). The CRP gallery is open: Tuesday to Friday from 13h to 17h Saturday, Sunday, public holidays from 14h to 18h Groups: Visits & workshops from Tuesday to Friday 9h / 17h, Saturday 14h / 18h on reservation: mediation @ crp. photo / +33 (0) 327 43 57 97 Free admission © David Schalliol.