Pure Aventure - Parcours Accrobranche en forêt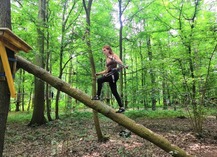 Phone :
+33 (0)6 12 52 24 35
Pure Aventure - Parcours Accrobranche en forêt
http://www.pureaventure.com
Nous avons mis en place un protocole anti-covid qui compte plusieurs actions : - réduction de notre capacité d'accueil et du nombre de personne prise en charge par départ. - réservation en ligne - sens de circulation et distanciation au sol et dans les activités - port du masque dans les espaces de contact (pour les clients) - port du masque et/ou de la visière pour nos salariés - mise à disposition de gel hydroalcoolique
Pure Adventure is a tree climbing park or adventure course located in Raismes near the Leisure and Nature Park of La Porte du Hainaut. More than 120 games are on offer, divided into 4 teenager / adult tracks, 3 kid tracks and 1 baby track! So everyone will find a challenge within their reach. For the more adventurous, flying surf or jumping giant tarzan, in an exceptional and preserved, surrounded by oaks centenarians. Guaranteed security: continuous lifeline for kids and interconnected carabiners for grown-ups. It is also the ideal setting for an original birthday, with a special formula and nature animations supervised by a professional engaged. Group rate from the 5th person. Free parking. Open every day (book on our website www.pureaventure.com). Annual closure from November to March.