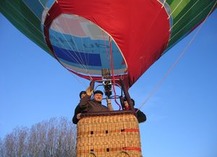 Phone :
+33 (0)6 89 66 21 79
Vol en montgolfière
http://www.alize-montgolfiere.eu/
Alizé offers balloon discovered aboard his balloon, from April to October, the varied landscapes of the territory of La Porte du Hainaut. Several starting points are possible: park Scarpe Saint-Amand-les-Eaux; Park La Porte du Hainaut Raismes; mining site of Wallers-Arenberg; Maingoval Park Douchy-les-Mines; sports field Wasnes-au-Bac. The gondola can accommodate up to 4 people. People with disabilities can also enjoy hot air ballooning with a suitable platform (the flight then departs Wavrechain-sous-Faulx). Access to children - 8 years is prohibited for safety reasons. Price: € 150 per person on weekdays. € 180 per person for the weekend.