Bassin Rond: rond ou rectangulaire ?
Cultural
Nature and relaxation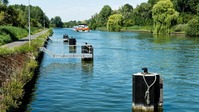 Cette visite est adaptée aux mesures sanitaires et de sécurité liées au COVID-19. Max. 18 participants divisés en 2 groupes. Port du masque et distanciation sociale de 1 mètre obligatoire.
A little history ! A look back at the interwar period, the golden age of the Bassin Rond ... Contrary to its name, the Bassin Rond is rectangular! It was created to create a link between the Scheldt and the Sensée. It is a place where sailors liked to meet. French and Belgian boats sometimes waited six to ten days to cross the Iwuy lock (a town near Cambrai). In the meantime they stocked up for their trip and participated in the local trade. Ropes, poles, cables,… were sold on site. In this gathering place, the grocers, the brewers but also the taverns were numerous. The atmosphere was cheerful. A return in pictures proposed by the guide of the Tourist Office, will explain the golden age of the Bassin Rond ... Today, a place of leisure! Formerly the Mecca of the inland waterway industry, the Bassin Rond has become a leisure center animated by the Outdoor Center where you can learn to steer a dinghy or a windsurfing board, rent a canoe or a mountain bike to walk the along the banks, go archery ... All in a pleasant setting where the flora and fauna of the banks are conducive to contemplation ... And if you take part in the family guided tour from the Bassin sailing club round? Take advantage of the fascinating comments of the Tourist Office guide! Practical information: Duration of the visit: 1 hour. Online reservation and payment (book button at the top right above the map) or directly at the Tourist Office located at 89 Grand'Place in Saint-Amand-les-Eaux. Visit maintained subject to 5 participants. Wearing a mask is compulsory. Please bring your own earphones (jack cable) to adapt to radio phones provided by the Tourist Office. A physical distance of 1 meter must be respected.
Prices
Min
Max
Description
Full-fare
5 €